Cambridge High Security Locks
Cambridge Locksmith 647-866-0956
Cambridge High Security Locks
Why High Security Locks Are The Answer
If you're worried about the security of your existing locks (and many people are), you may want to consider upgrading. Many conventional locks aren't as safe as you would think. "Bump keying", a method of cylinder manipulation used by some thieves, can allow your existing locks to be opened from the outside, and there are a number of other picking methods, too. To avoid this problem, invest in high security locks. They're pick resistant, feature bump proof technology, and their keys can't be duplicated by anyone. Here's some more information about high security locks and their advantages.
There are a number of types of high security locks, but one popular one is produced by Medeco High Security Locks.
This company developed their unique lock design in the late sixties, using elevating and rotating pin tumblers combined with angled key cuts. This provided millions of possible key combinations, and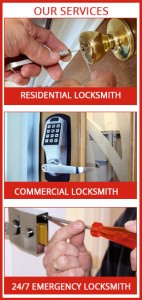 created a new, unmatched level of security. Angled key cuts were used to rotate unique bottom pins in the lock, and the use of a side bar and hardened steel inserts created a cylinder that could resist almost any kind of attack. The official formation of Medeco came after the development of this lock, and the company soon set the standard for key control and high security locks.
These unique angled cuts, combined with the cylinder design, were protected by a utility patent that allowed only Medeco to product these amazing high security locks. The original patent was upheld in many court situations. Why is this important? As long as the manufacturer's patent can be upheld, it's possible to control the keys that can be made, preventing a new key from being made for a lock.
The use of utility patents to provide the ultimate key control solutions has been so successful that another design was released in the mid 1980s. This lock design, called Biaxial, used the rotating and elevating tumbler design, but had a greater master keying capability. Double cuts on the keys, combined with special offset tips on the lock pins made it even more secure. The hardened steel inserts gained more strategic placement, making physical attack almost impossible. The utility patent on these high security locks is still used to protect against the unauthorized duplication or manufacture of key blanks for them.
Advances in high security locks by Medeco have continued. In the mid 1990s, they introduced KeyMark, a method for installations that need strong patented key control without extra features for drill and pick resistance. This is the ideal product for an institution. that's because it has an interchangeable core that can be directly retrofitted into standard Small Format Interchangeable Cores, or SFICs, like Best and other lock styles. These locks have a unique shape to the keyway, called the "security leg", and use a mushroom shaped top and bottom pin design to help with pick resistance.
Of course, not all high security locks on the market are mechanical. Electronics were introduced in the late 1990s, with the SiteLine product family. These locks use a single, simple SiteKey credential for both mechanical and electronic access control. That means they easily integrate into existing EAC installations, as well as into new ones. Electronic locks may be the right choice if your business or institution needs the highest security possible.
Medeco isn't the only company producing high security locks, either. Mul T Lock, a popular lock producer, offers a family of high security lock products that work in a variety of applications, both residential and institutional. Their full line of cylinders can be used to retrofit locksets of leading manufacturers, or used in company with their standalone padlocks, deadbolts, and other products. These locks use mushroom shaped heads and other important security features, rendering the locks almost pick proof. Like other high security locks, Mul T Lock locks are not vulnerable to bumping. They also maintain a patented key control system, protecting against the unauthorized duplication of keys.
Our homes are our safe havens, providing us with protection, and our businesses provide us with the income we need to live. We should feel safe and secure in these places, and high security locks, combined with good doors and windows, can offer this. Avoid problems with lock duplication, picking, or other security issues by investing in a lock with patented key control. If you have an ordinary key, you can have it copied at almost any location that duplicates keys.
The keys to high security locks, on the other hand, can only be duplicated with the right identification at a dealer authorized to do so. Dealers of high security locks actually have to follow closely enforced legal procedures when they copy this kind of key. It's required for them to match your identification to their records, verify your authorization, and record each key cut. A high security lock ensures you that no one has a key to your home or business that you're not aware of. Feel safer by using high security locks in every location where home or business security is a concern.