Guelph Lock Bumping
Guelph Locksmith 647-866-0956
Guelph Lock Bumping
Things That Go Bump in The Night- Lock Bumping Makes Any Home Vulnerable
Through inexpensive tools and a little practice, lock bumping can be done by anyone.
Deadbolts, Chains, Security systems. It seems people will go to any length to keep their home and their belongings safe. But even when the homeowners get smart, so do the crooks. For every lock out there, someone has figured out a way to open it. In some cases, getting in involves lock bumping.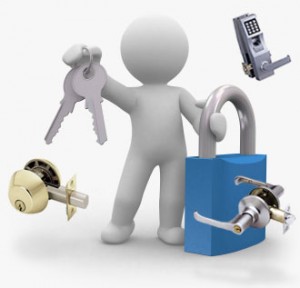 On many locks found on residences, a pin tumbler lock mechanism is in use. Inside the lock there are a series of cylinders known as pins. When a key with cuts corresponding to these pins' shapes and positions is inserted into the lock's keyway, the pins are pushed back by a series of small springs and the lock is opened. From inexpensive to very pricey locks, pin tumbler locks all work on this  same principle and have been in use since the ancient Egyptians developed the concept in 2000 BC.
Several thousand years younger than the lock itself, lock bumping is a type of lock picking which involves what's known as a lock bumping key. Much like a skeleton key, a bump key can fit into any pin tumbler lock. Bump keys are created by filing down a key blank to about one millimeter. The "bump" is then done by inserting the bump key into the lock and tapping the key with something such as a screwdriver until the lock's pin stacks have been jolted enough to free the lock. The technique requires far less skill than traditional lock picking and can be mastered with some practice.
Scary as it may seem, lock bumping can be employed by practically anyone. A relatively new phenomenon, bumping has been seen in use by criminals in the US and Europe since 2002. Documents and several videos available on the Internet detail specifically how to bump a lock and can be instantly accessed by anyone with a computer. Bump keys first appeared in the early 1920's when the idea was patented as a new method of lock picking. Currently, bump keys can be purchased online for a variety of lock types for as little as $3.00.
Because of the recent surge in the popularity of lock bumping, manufacturers are making strides to make their locks "bump proof". Locks such as the Schlage Primus have sidebars that, when not aligned properly, keep bump keys from moving the lock's mechanism. The Primus also involves pins filed to a specific angle that allow only their accompanying keys to open. Similarly, Medeco also makes a deadbolt for residences that is considered to be bump proof. Electronic locks or those that open using a key pad or don't require a key are also bump proof just by their very nature.
More low-tech methods of preventing lock bumping include spraying the lock with WD-40. In theory, the lubricant, normally used on squeaky door hinges, make the pins inside the lock slippery. The pins then move more freely and may not make the lock entirely bump proof, but will take longer to open with a bump key. The thought is then that the criminal becomes impatient or tired of trying the lock and moves on.