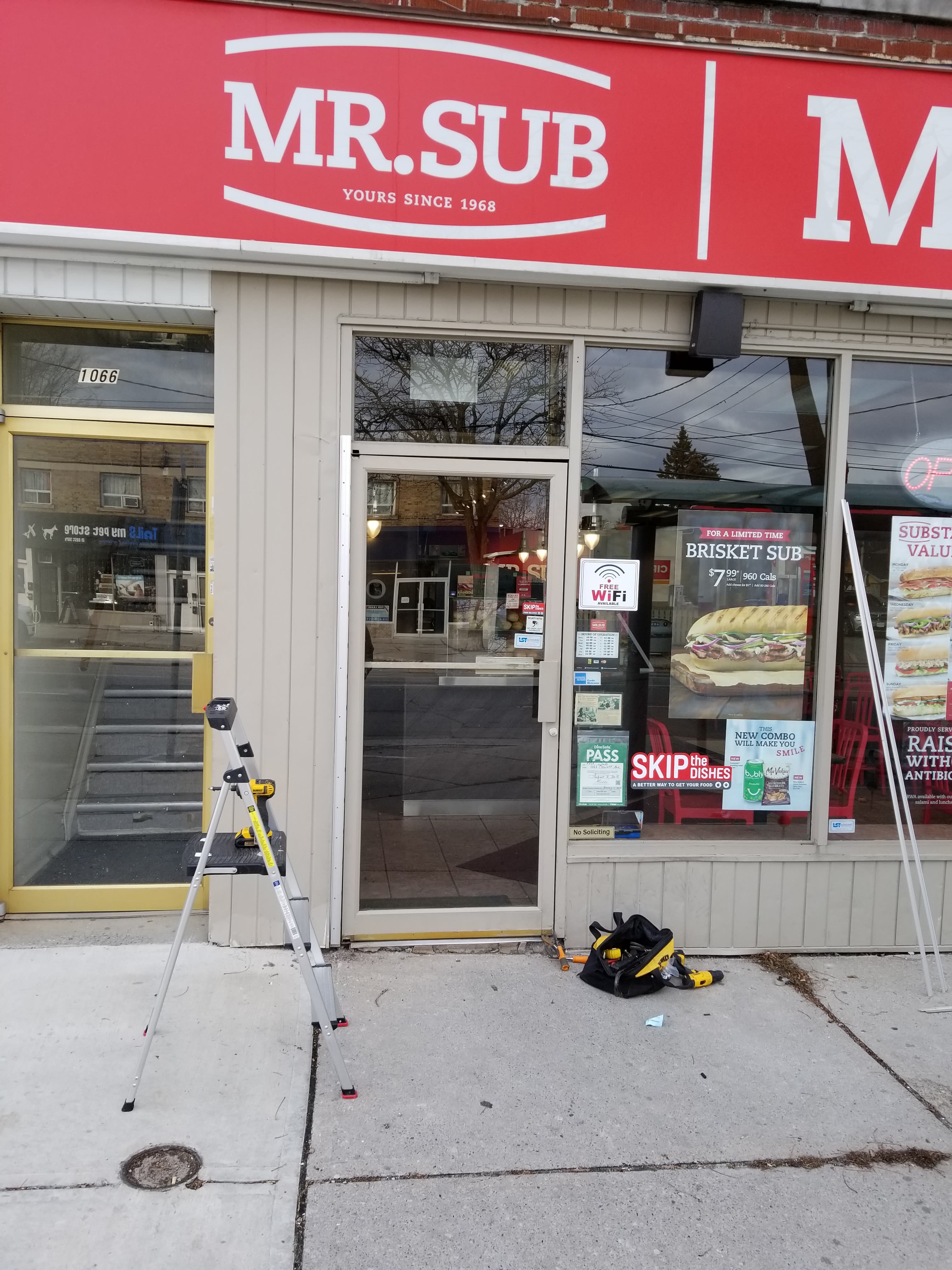 Door Repairs Toronto

Revolving Entry Door Advantages
A revolving door usually made up of three or four doors hanging on a center shaft. These rotate around a vertical central axis usually within a round see-thru enclosure. Revolving Doors can be seen as a statement of prestige for a building and its architecture and can also save money in long-term.
As a building entrance, revolving doors offer a major advantage in energy efficiency by eliminating droughts, thus reducing heating or air-conditioning costs for the building. Also, revolving doors allow larger numbers of people to pass in and out, offering you a steady, safe, smooth and convenient doorway.
Revolving Door Repair & Sales
The selection and servicing of each of these door types requires considerable expertise. Ideally you should find a main contractor for all your office door installation needs, one who can offer sound expert advice, and one who also can offer all required after-sales support, including long-term maintenance agreements.
High quality service is our top priority. Our service technicians are trained, certified and committed to the highest level of customer service. From automatic sliding doors, swing doors, folding doors or revolving doors to manual pedestrian doors of all types, Door repairs Toronto provides you the experts to repair or replace any commercial sliding door to your satisfaction.
Door repairs Toronto offers a wide selection of electric sliding doors for your home or business and offer free estimates and evaluations.
Benefits of an aluminum Door
Aluminum has a high strength-to-weight ratio and is easily formed into many shapes and configurations, which is why it's the most common commercial framing material for business doors. Not only does aluminum provide greater strength than a wooden door, but because it's more resistant to the elements it's not likely to warp or rot.
Its tough surface resists denting and weathering.
Look professional
Low maintenance
Very Secure
Have the highest standards for air and water infiltration and structural integrity.
Traditional Aluminum doors are also best suited for light or heavy commercial buildings such as schools, restaurants, and government buildings.
Call us today for all your door needs 647 866 0956