Toronto Store Doors
Ontario Door Repair 647-866-0956
Toronto Store Doors
5 Tips for Keeping Your Store Safe During The Holidays
At Toronto Store Doors, we have a long list of commercial door and gate services that help you keep your business safe. However, when the holiday season arrives, you may have special needs for doors or entries that you do not experience other times of the year. Of course, we are happy to help any business space in Toronto or the rest of the GTA area, and we welcome any inquiries. Written below, we have ideas about glass door services, storefront entry door issues, commercial gate repair and other ways to keep your holidays and Thanksgiving customers ready for shopping.
Temporary doors for crowd safety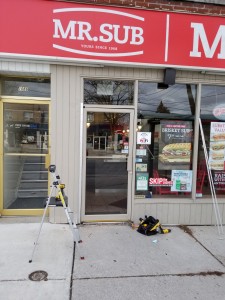 Have you found that customers are crowding the entry ways of your commercial space during the holiday season in a way that could result in injuries? If you are finding a solution is needed to take care of the large amount of people that rush to your store during the holiday season or Thanksgiving, there are answers that can fit any budget. For example, some stores will hire extra security during the holiday season for obvious reasons, but businesses often forget that an extra storefront entry door can be installed to easily take the place of security staff.
Minimizing theft and walk-offs
Unfortunately, many business owners are concerned with the large number of theft and walk off related issues they have during the holiday season. In addition to behind-the-scenes work with commercial gate repair, we can help keep your outdoor merchandise safe overnight with the correct gate and barrier services. In other words, if it has hinges or a door, we are likely to have the knowledge and supplies you need to make your property-loss and walk-off numbers their lowest.
Keeping the entryways slip-free
Naturally, one of the main issues with the holiday season is keeping the entryway safe. This may also mean adjusting a glass door so it does not cause injuries. For instance, during winter months, some glass doors will frost or become less visible. Adding to this, entryway doors may not work correctly if certain safety features are installed. To get maximum safety measures under your control during the holiday season, a quick call to a door specialists is all you need.
Putting up the entryway decorations you want
Do you have a design scheme for your holiday season decorations in mind that needs a little bit of professional help? In addition to hanging temporary doors that are decorated for winter, we can also help you put decorations on doors. Although there may be some exceptions to the rule, we can work with your decorators to create a door theme that will invite your customers inside.
Keeping utility bills low
Are you opening up the doors of your business for the holidays and are worried about your outrageous utility bill at the end of the season? When you are experiencing heat loss from your business, there are a few ideas for doors that can help. For example, if you are selling Christmas trees, you can build a temporary enclosure near your doors to keep customers from dragging a tree to your indoor registers.
We are here for your door needs year-round!
Give Toronto Store Doors a call during the holidays and we will make it worth your while. Serving the commercial door community in Toronto (GTA), we work hard to ensure your holiday season is worry-free.
To get started, call Toronto Store Doors today! We look forward to hearing from you. 647-866-0956